Women's Retreat February 2018
Presbyterian Women's 26th Annual Retreat
Saturday, February 24, 2018
9:00 am - 12:30 pm
"Simplicity: Synched Into the Savior"
Event Speaker:
Heidi Joffrion, Psy.D., M.F.T.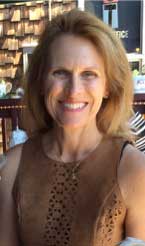 Women of Palm Springs Presbyterian Church have gathered on a special Spring morning for over 25 years with a Retreat. The only expectation of those attending is that you love the Lord or want to learn more about God and Love.
Planners through the years have brought a rich and inspiring bounty of speakers to our Church, building fellowship and learning that enriches us all! This year, your Retreat Team has reached out to an incredible presenter with experience leading Retreats.
Heidi Joffrion, Psy.D, is a licensed Marriage and Family Therapist as well as a psychologist. She was born into a Christian home with a habit of regular church attendance and came to a personal relationship with Jesus at age 5. She went to Biola University, then transferred to CSUF. Her junior year began a 3 year involvement with Inter Varsity Christian Fellowship.
She is a member of Lake Arrowhead Community Presbyterian Church. She has been involved in teaching both Wednesday night and Sunday school programs. She has played in the bell choir and co-organized 5 women's retreats. Heidi and her husband of 26 years are parents of two children.
---
9:00-9:15
Registration and Coffee
9:15-9:30
Opening Prayer and Introduction
9:30-10:15
"Considering Simplicity"
10:15-10:35
Coffee Break and Friendship Making
10:35-11:20
"Centered on Christ"
11:20-11:35
Stretching Break and Frienship Making
11:30-12:20
"Anything or Anybody"
12:20-12:30
Closing Prayer and Photo Time!