Women's Retreat March 2017
Presbyterian Women's 25th Annual Retreat
March 4, 2017
"Peace, Power and Promise:
Three Facets of the Faith Walk"
by Reverend Christine Dickerson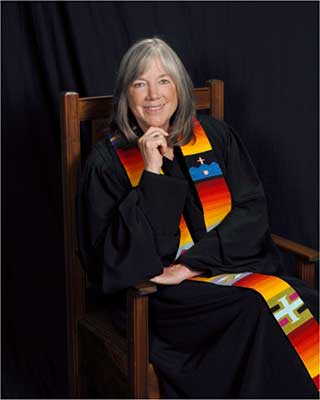 Rev. Christine was born in Seattle, Washington. She attended public schools, graduating from Franklin High School. She received her Bachelor of Arts from The University of Washington, the first graduate of Native American History from that University. Between her first and last classes at the U of W, Christine managed to hitchhike through Europe, lived in Hong Kong as a film editor for German Television, trained in Sound Engineering and worked for Warner Bros. Studios in Hollywood.
Returning to Seattle and initially continuing her work in film and video, she prepared to enter Law School. God had a different idea, however, and she began to feel the tug of ministry. Christine received her Masters of Divinity from Fuller Theological Seminary in 1996, and was ordained as a Minister of the Word and Sacrament to begin work as Director of Spiritual Care for Harborview Medical Center in Seattle, a Level One trauma Center. Eventually, Harborview became a 'teaching hospital' for Chaplains, and she moved into Congregational Ministry.
In 2011, Rev. Christine received a call to Palm Springs Presbyterian Church where she continues to serve as solo Pastor for a wonderful and increasingly diverse congregation.
9:15-9:30
Registration and Coffee
9:39-9:40
Opening Prayer and Introduction
9:40-10:20
SESSION ONE
10:20-10:40
Coffee Break and Friendship Making
10:40-11:20
SESSION TWO
11:20-11:30
Stretching Break and Frienship Making
11:30-12:20
SESSION THREE
12:20-12:30
Closing Prayer